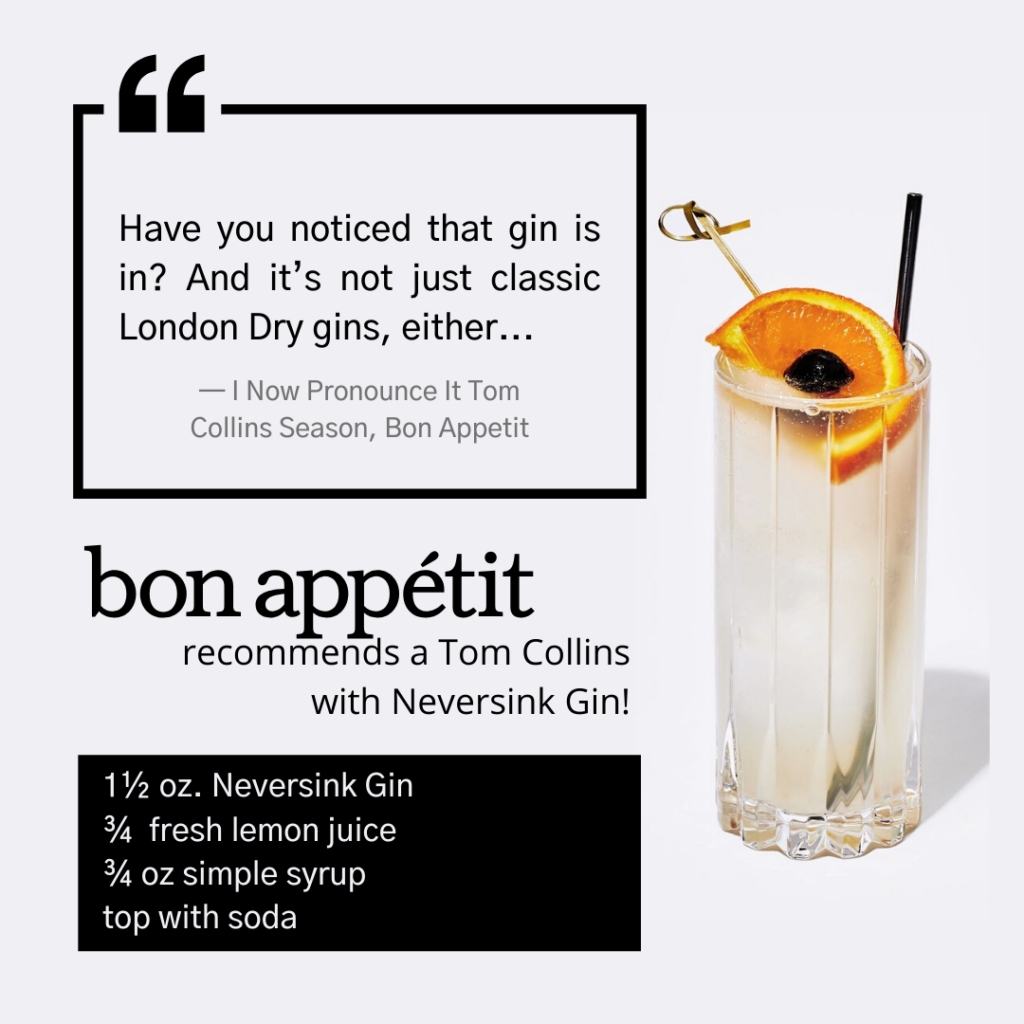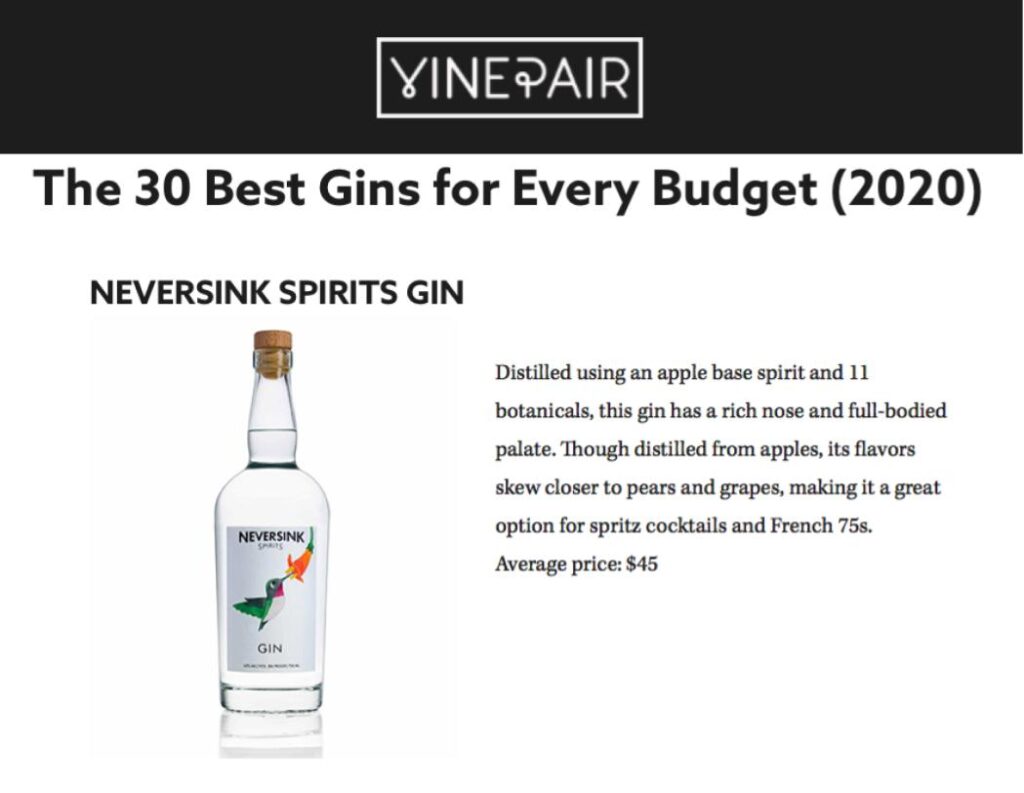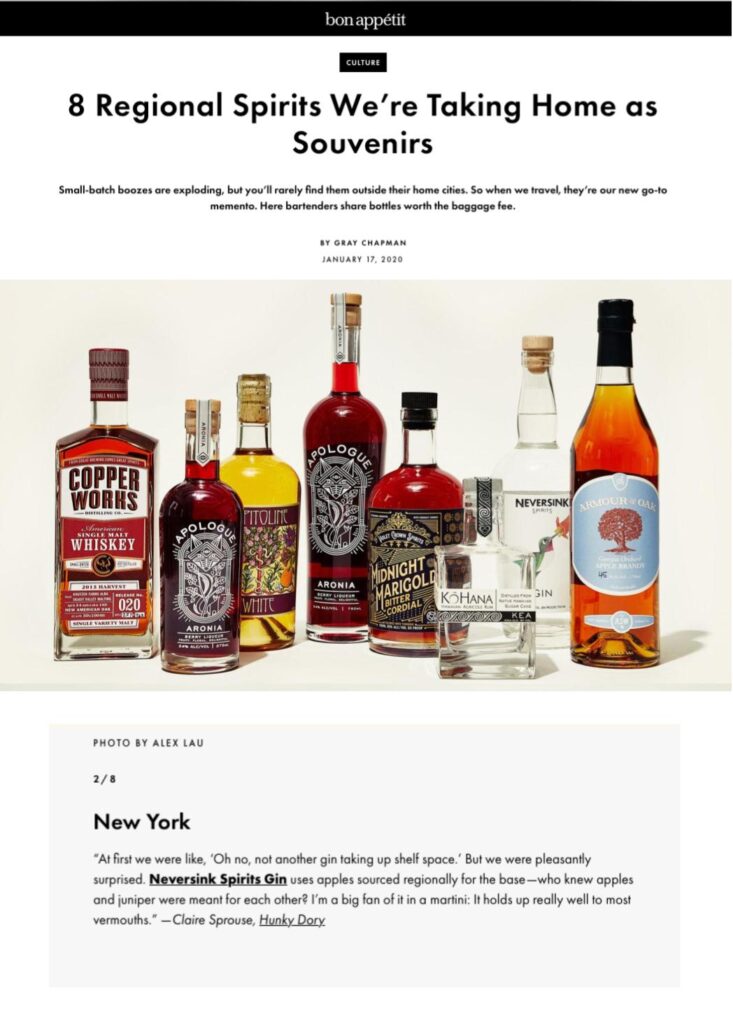 Additional Press:
Forbes, June 2020 – "The Top Ten Best Gins to Sip on This Summer" by Brad Japhe. https://www.forbes.com/sites/bradjaphe/2020/06/21/the-best-gin-to-sip-on-this-summer/#7583214a6ff0
Bon Appetit, May 2020 – "I Now Pronounce it Tom Collins Season" by Al Culliton. https://www.bonappetit.com/story/tom-collins-season
Vine Pair, March 2020 – "The 30 Best Gins for Every Budget" by Tim McKirdy. https://vinepair.com/buy-this-booze/best-gin-brands-2020/
Bon Appetit, January 2020 – "8 Regional Spirits We're Taking Home as Souvenirs" by Gary Chapman. https://www.bonappetit.com/gallery/regional-spirits-souvenirs
Wine Enthusiast, December 2019 – "Seven Apple-Based Spirits for Cocktails and Straight Sipping" by Katherine Alex Beaven. https://www.winemag.com/2019/12/17/seven-apple-based-spirits/
Food and Wine, November 2019 – "The Food & Wine Holiday Gift Guide 2019" by Oset Babür. https://www.foodandwine.com/lifestyle/gifts/holiday-gift-guide-2019
Food and Wine, March 2019 – "5 Gins With Offbeat Botanicals to Try Now" by Peter Lane. https://www.foodandwine.com/cocktails-spirits/gin-nontraditional-botanicals-winter-spring
Bloomberg, December 2018 – "The Most Exciting Spirits We Drank in 2018" by John DeBary. https://www.bloomberg.com/news/features/2018-12-28/best-spirits-of-2018-whiskey-mezcal-amaro-gin-vodka-rum.
Edible Magazine, March 2018 – "Going Clear: Neversink Rises to Bring Eau De Vie to a New Generation" by Julia Sexton. https://ediblehudsonvalley.ediblecommunities.com/drink/going-clear-neversink-rises-bring-eau-de-vie-new-generation
GQ, April 2017 – "Nine Bottles to Turn Gin Haters into Gin Lovers" by Natalie Compton. https://www.gq.com/story/best-gin-bottles-american
Vice (Munchies), December 2016 – "These New Yorkers Want to Make Eau De Vie Cool" by Natalie Compton. https://www.vice.com/en_us/article/aeav8k/these-new-yorkers-want-to-make-eau-de-vie-cool
Forbes, December 2016 – "The Best Spirits and Cocktails for 2017" by Adam Morganstern. https://www.forbes.com/sites/adammorganstern/2016/12/28/the-best-spirits-and-cocktails-for-2017/#13bb9fa370bb
New York Times, November 2015 – "From Neversink Spirits in Port Chester, N.Y., Local Fruit Brandy" by Steve Reddicliffe. https://www.nytimes.com/2015/11/22/nyregion/spirits-in-catskills-ny-neversink-local-fruit-blend.html
Forbes, December 2016 – "The Best Spirits and Cocktails for 2017" by Adam Morganstern. https://www.forbes.com/sites/adammorganstern/2015/12/30/the-best-spirits-and-cocktails-for-2016/#4bd919e01864